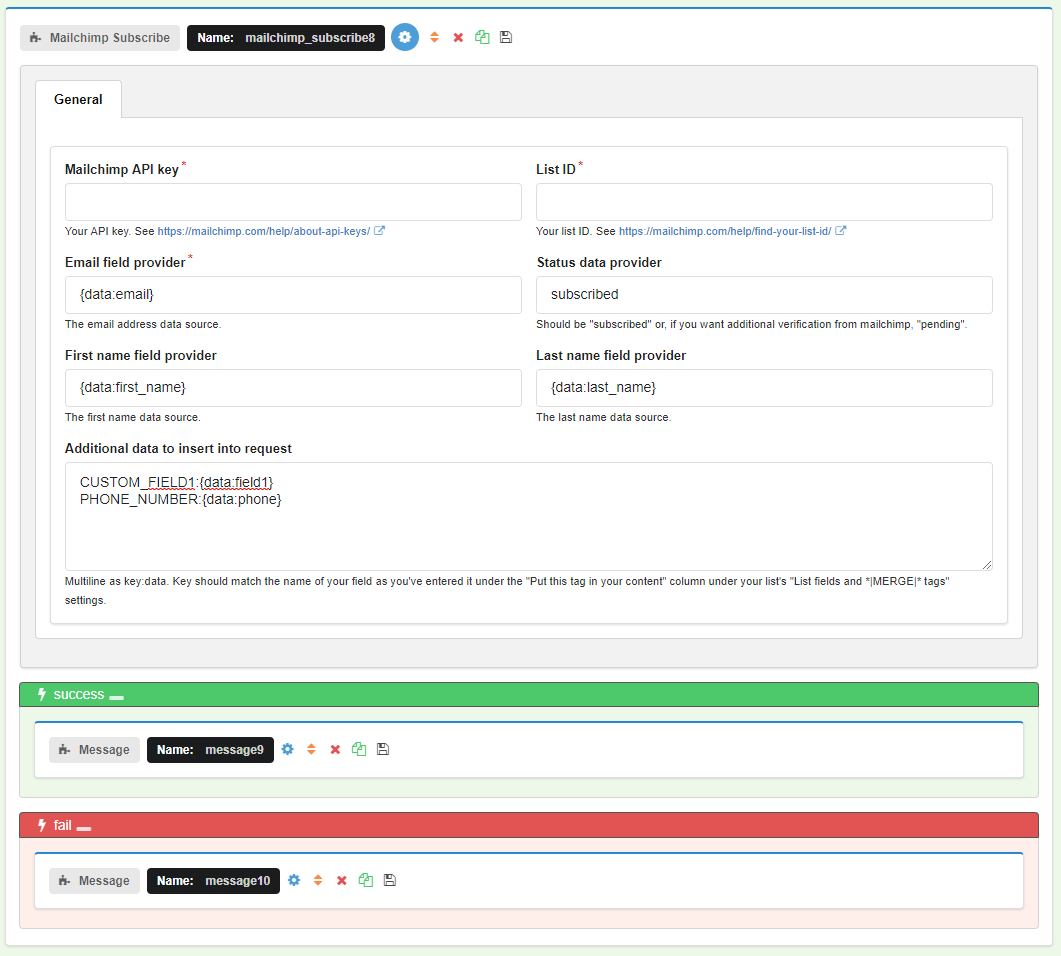 Mailchimp Subscribe Action
This purchase includes an easy to use Mailchimp Subscription action you can add to any form without needing any code, and a demo showing you how to use it.
The MailChimp Subscription Action lets you quickly and easily subscribe a user to any of your MailChimp lists, all without writing a single line of code. This action also allows you to add any of your form data to your custom fields set up through your Mailchimp list.
The demo form includes 3 fields - First Name, Last Name, and Email - and the new MailChimp Subscribe action. 
How to Install - Joomla Plugin Installer Installer (Joomla Only) NEW!
To install the new action on Joomla, download the plg_SkySpiderCFv6<ExtensionName>.zip file and install it the same way you would install any other Joomla (under Extensions→Manage→Install), and then enable it (under Extensions→Plugins). The first time you install the plugin will install the action to Chronoforms, and enabling the plugin will ensure it stays installed when you update Chronoforms or Chronoconnectivity.
How to Install - Chronoforms Installer (Joomla and Wordpress)
To install the new action, download the function.<ExtrensionName>.zip file (don't extract it). In your Chronoforms menu click "Install feature" and upload the zip file. Installing this way means the plugin will be removed every time you update Chronoforms.
Things you will need first
IMPORTANT INFORMATION
Because of limitations with Joomla and Chronoforms, this action will need to be re-installed each time you update Chronoforms

 unless you use the Joomla Plugin version

.
For CFv6.1.3 and earlier use the v1.0 file. For CFv6.1.4+ use the newer file. 
This action and the associated demo form is ONLY for Chronoforms v6